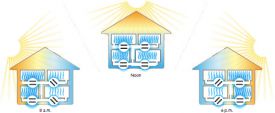 A zoning system gives you the comfort your desire at a price you can afford. You'll appreciate the comfort Air Conditioning Unlimited's zoning system offers the day we install it, and for many years to come. Consistent temperatures and optimal comfort can be a challenge for even the best heating and cooling systems. After all, some rooms receive more sunlight than others. Some are in the shade. Some rooms are closer to the furnace or air handler. And some rooms are rarely used, yet are heated and cooled to the same temperature as other rooms. A zoning system can address all of these issues and more. Zoning works by directing more heated or cooled air where it's needed, and less where it isn't. This helps reduce the energy spent on areas where conditioned air is not needed, and it can also reduce the overall work your system has to do, prolonging system life. While you enjoy steady comfort from floor to floor and room to room.
Precise Comfort at Your Fingertips
Unlike conventional systems that can only heat or cool the entire house at once, a zoning system directs heated and cooled air on a zone-by-zone basis, allowing you to control each for customized comfort throughout. During the summer, your matched zoning system uses an air conditioner or heat pump to cool the air, and a variable-speed furnace or air handler to circulate it through your ductwork. Motorized modulating dampers can be installed within your new or existing ductwork to redirect cooled air where it's needed, keeping temperatures consistent throughout your house. In winter, your matched zoning system uses a heat pump or variable-speed furnace to warm the air, and an air handler or variable-speed furnace to move the air through the ductwork. Dampers direct this warm air where sensors determine it's most needed, giving you consistent heat, based on the set temperature in each customized zone of your home.